In December 31, 1969, President Nixon signed a proclamation designating January as National Blood Donor Month, making this the 50th year of honoring existing donors and recruiting new ones.
The timing of the proclamation wasn't a coincidence. The month of January is usually a period of critical blood shortages. People stop donating blood during the holidays and when they get sick during cold and flu season. Blood drives also get snowed out during the winter months. [1]
If you are a regular blood donor, don't forget to give this winter. If you've never donated blood before, now is a perfect time to start.
INTERESTING FACTS FOR BLOOD DONORS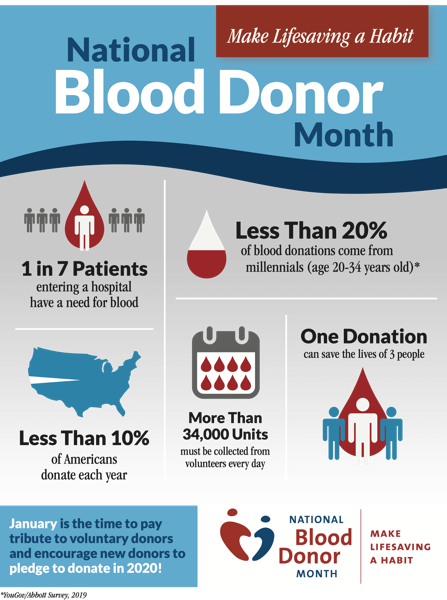 1 in 7 patients entering a hospital will use blood
1 in 83 births will need a blood transfusion
Myth: Having tattoos means you can't donate blood. THIS IS FALSE, you can donate blood, even if you have tattoos.
Do you know someone with cancer? Someone who is pregnant? Someone with sickle cell disease? Then you know someone who may need blood.
Everyday, someone in your community may need blood, don't wait until a tragedy or shooting happens, donate today! [2]
GIVING BLOOD ALSO BENEFITS THE DONOR
Other than the satisfaction of literally saving lives by giving blood, here are some real benefits to the donor...
Giving blood is basically a free blood test.
During the donation process, individuals are screened to determine if they are healthy enough to give blood and if they have any blood pressure problems or infections. Their blood is also tested after donation to ensure it is safe to be given to another person. After giving blood, donors can ask to be notified if there are any irregularities in their blood, which can save them a visit to the doctor's office and, perhaps even a medical bill. [3]
Giving blood is basically an easy workout.
On average, individuals burn 650 calories during the blood donation process, which is equivalent to the number of calories burned during a spin class. Blood donation should never be used as a strategy to lose weight, but the opportunity to burn some extra calories is still a benefit of blood donation most do not expect. [4]
Giving blood reduces the risk of heart disease and cancer.
Donating blood can help individuals who consume foods rich in iron limit the build-up and oxidation of iron in the body, which has been linked to heart attacks and strokes. Research suggests blood donation is associated with a lower risk of cardiovascular problems and cancer because of reduced iron stores in the body. It also provides evidence indicating regular blood donors are eighty-eight percent less likely than non-donors to have a heart attack. [5] [6]
HOW TO HELP RAISE AWARENESS ABOUT THE URGENT NEED FOR BLOOD DONORS
Donate blood, and encourage your friends and family to do the same.
Share articles like this one on your social media accounts.
Wear items that raise awareness.
We can help you order wristbands, or polos, or hats, or t-shirts, or pens, or tote bags, or hoodies…
FINAL THOUGHTS
Blood cannot be manufactured. Despite medical and technological advances, blood cannot be made, so donations are the only way we can give blood to those who need it. [7] Every two seconds, someone in the U.S. needs blood, and every donation can save up to three lives. It is so simple, and the benefits are so tangible and enormous. Let's commit to become regular donors this National Blood Donor Month!
[1] About National Blood Donor Month
[2] Facts and infographic via https://www.adrp.org/NBDM/ Used with permission.
[3] Donating blood is a free blood test.
[4] Giving blood burns calories.
[5] Giving bloods helps prevent heart disease.
[6] Giving blood helps prevent cancer.