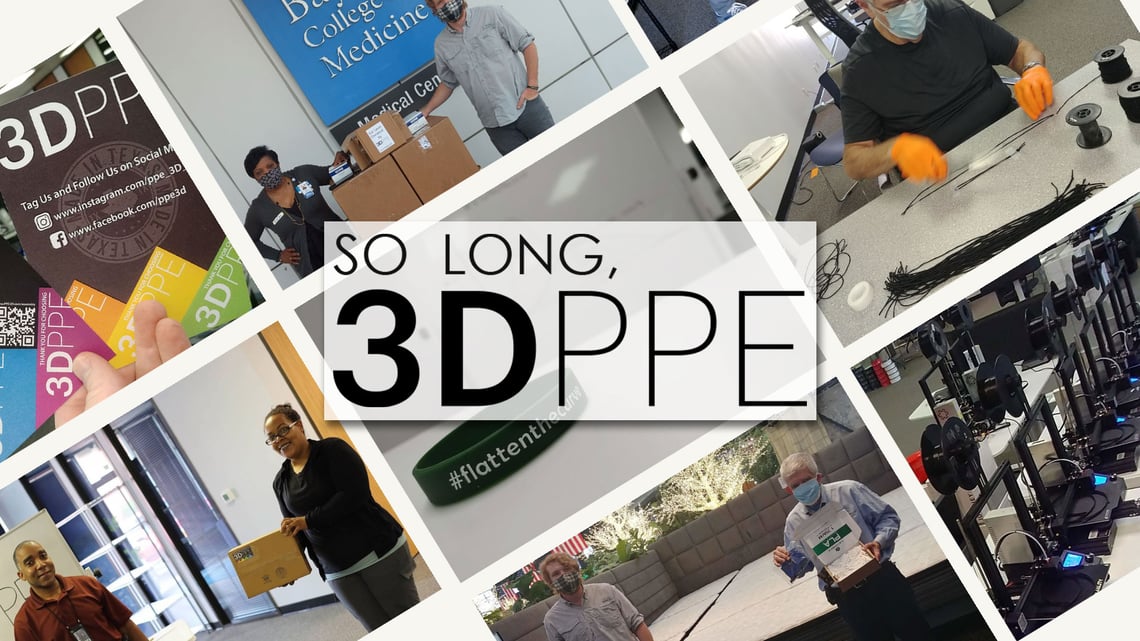 You can tell a lot about a business by how they respond to a crisis.
In early 2020 when the first wave of lock-downs began, Rapidwristbands, like many promotional product businesses, found itself deemed "non-essential". Facing uncertainty but not wanting to sit idly by, we decided to do something about it. We created the 3DPPE brand as a way of shifting our production facilities to the newly-essential work of making personal protective equipment (PPE), and 80% of our workforce was re-assigned to this effort. We had no idea if the business would survive the pandemic, but if we went down we would go down swinging, making the most of the time and resources we had and doing what we could to help flatten the curve.
Helping Our Healthcare Workers and First Responders
Over the course of the first two years of the Covid-19 pandemic 3DPPE produced over 100,000 pieces of handmade PPE, with nearly half of that amount donated to schools, healthcare workers, and first responders. At the time these donations were made, most stores and suppliers were completely out of stock. Lead times were months-long and not guaranteed at all, and the few places that did have supplies were charging 5-10 times the standard retail price. And while some companies were even selling at a 1000% mark-up, we sold all of our products at pre-pandemic rates; essentially near-cost.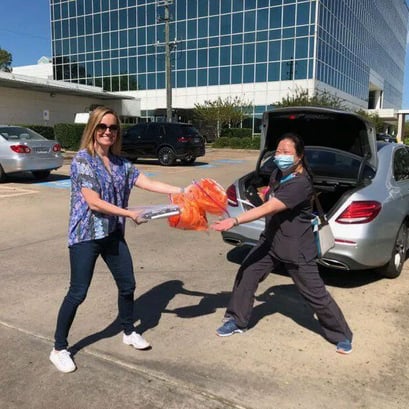 "You could just see the joy on their face that they were getting face shields, because at the time they didn't have any. They didn't have enough N95s."
That's Dr. Maggie Jeffries, a local anesthesiologist and recipient of 3DPPE donations.
"We were living through, at that time, such a fearful time in the healthcare community that we just didn't know. We didn't know if you'd survive it, we didn't know... how transmissible it was, so people wanted to be in a spacesuit if they could."
When it came to getting supplies in the early days of the pandemic small groups and organizations often had a more difficult time. "If you didn't have a connection or you weren't a big name, it was really hard to get what you needed. So, it was really important to have small companies to help out."
In all, 3DPPE donated an estimated $250,000 worth of PPE supplies, about a $25,000 donation per employee. Compare that to Amazon's $10,000,000 donation; only about $13.33 per each of its 750,000 employees.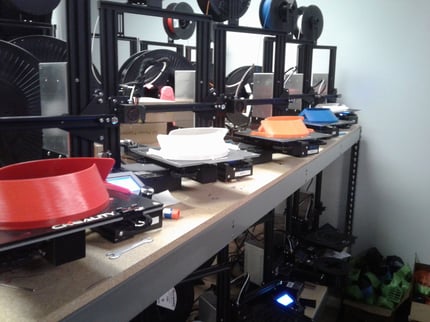 3DPPE also partnered with TX/RX Labs, a maker's space that coordinated with local businesses. Together, they worked to rapidly provide hospitals with printed face shields and sneeze guards created in partnership with Skyline Houston. A full third of all printed face shields donated in this project were made by 3DPPE. Several local sheriff's departments and fire & rescues also had a standing partnership with 3DPPE to hand out more than 5000 masks to local communities in the Clear Lake and Pasadena areas. This was coupled with a policy that any first responder could come to the 3DPPE office in uniform and receive a personal mask and face shield for their own use, free of charge. Other recipients of 3DPPE donations included familiar Houston institution Gallery Furniture (itself a frequent supplier of aid to the community in times of need), as well as the Baylor College of Medicine, UTMB Health, Memorial Hermann Hospitals, and Hilton-Americas Houston.
Getting Noticed

3DPPE started with twelve 3D printers here in Clear Lake printing face shields strictly for donations. This effort grew to include more than 100 local tailors, most recently out of work because of the pandemic, making hand-sewn cloth masks. After thousands of hours of fine-tuning on open-source designs provided as part of a national effort launched by the National Institutes of Health, 3DPPE's printers began running nearly 24/7 to print thousands of face shield visors, flexible N95 respirators, and "Earsavers" for the now-ubiquitous Olson-pattern cloth face masks. It wasn't long before word of mouth began to spread and Houston media began to take notice of the local small business doing what they could not only to protect the community around them in a dire time of need, but also to ensure that its own employees were taken care of in a time of uncertainty. Only a few weeks into the pandemic, 3DPPE was already one of the leading local suppliers of handmade PPE in Houston, Texas.
3DPPE was an ad-hoc small business born of necessity, but that same ad-hoc creation also gave it tenacious purpose.
By August of 2020, the company's 3D printers (now numbering sixty-five) had used so much filament in the preceding five months that the spent spools (each holding 1kg of material when new) lined nearly every wall of the Clear Lake office, a physical representation of the company's commitment to putting PPE in the hands of anyone who needed it.

Giving Back More than Just PPE
My great-aunt turned 89 the year the pandemic first hit. She lives by herself in a close-knit rust belt town just north of Cleveland, Ohio, not far from the frigid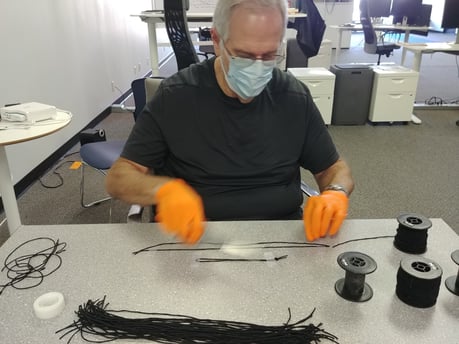 shores of Lake Erie. Throughout her life she's maintained an active social life, not just amongst friends and family but also within her local community. She volunteers at hospitals and libraries, takes part in civic organizations, goes to church regularly. She's often attributed her long life and happiness in old age to that active social life, but when the pandemic arrived and communities became insular and cancelled social gatherings, all of that evaporated overnight.
For the first time in over 20 years, she found herself spending most of her days in solitude. She was miserable, as many of us were in those first trying months of unfamiliar isolation.

3DPPE gave her life back.

With a bit of fabric and a few grams of plastic filament, a nearly-90 year-old woman was able to safely come out of isolation and start to enjoy the things that gave her life purpose again. Sure, interactions are a bit different from behind a mask, but humans are social creatures and that shared connection is integral to our well-being.
My great-aunt is not a special case. 3DPPE almost certainly allowed a countless number of people to resume their lives in a time of great unease. Families could come together again, businesses could function safely, and the pandemic went from an abstract concept disrupting our daily lives to something we could all bear a little easier. Brands like 3DPPE facilitated that.
Going Forward
Now, 2022 has come and the 3DPPE brand has served its purpose.
It could not have succeeded without the tireless work of everyone in the Clear Lake office. Shippers, Developers, Customer Service Representatives and more, all arriving early in the morning and working late into the night. They did this in the midst of a global pandemic to support their customers, their community, and each other. The book may be closed on 3DPPE, but that same tireless spirit can still be found today at Rapidwristbands.
We're rebuilding our customer base, but we're more determined than ever to provide the optimal promotional product experience for you and your business. As a small business ourselves, we're always looking to help others promote and expand their companies through the use of bold and unique wristbands, lanyards, keychains, and more. Not only will you be helping to promote yourself, but you'll also be helping out a fellow small business!
To all our 3DPPE customers from these past few years from all of us at Rapidwristbands, we can't thank you enough for your support. We look forward to continuing to do business with you at Rapidwristbands and all our sister companies for all the years to come.