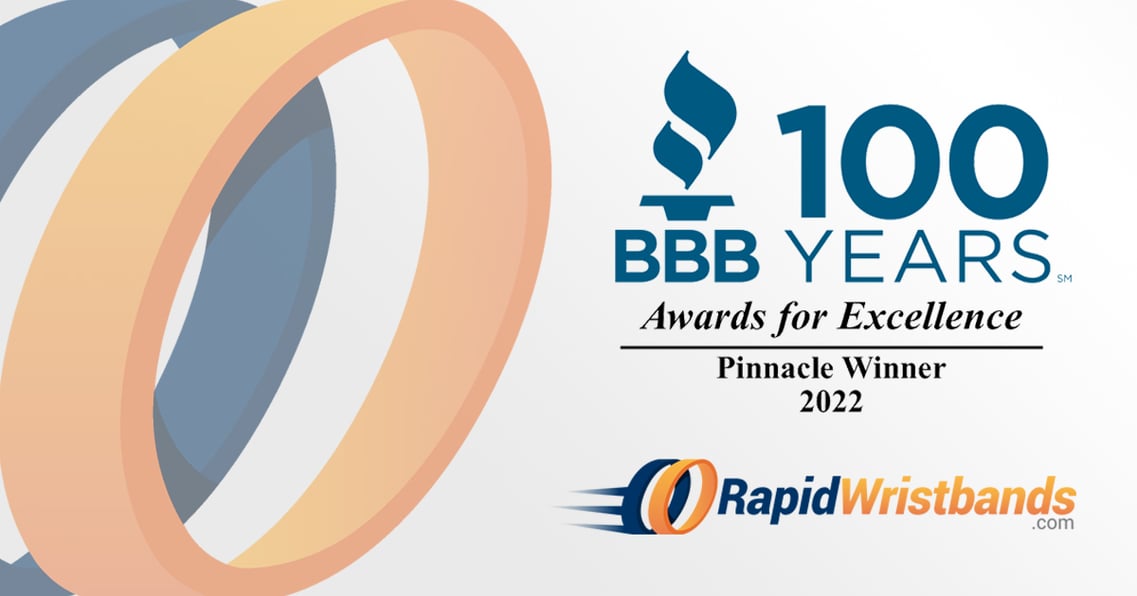 2022 Better Business Bureau Pinnacle Award
The BBB Awards for Excellence recognize businesses and non-profit organizations that have done exceptional work and demonstrated a strong commitment to quality in the workplace. This is the first year that Rapidwristbands.com has participated in the ceremony, and it is extremely rare to win the highest award on your first attempt.
The BBB's top achievement among the Awards of Excellence is the Pinnacle Award, only awarded to one company per category. This award highlights our commitment to exemplary customer service and gives our customers greater confidence in choosing Rapidwristbands.com for their custom wristband and bracelet needs.
Houston BBB awarded us the 2022 Pinnacle Award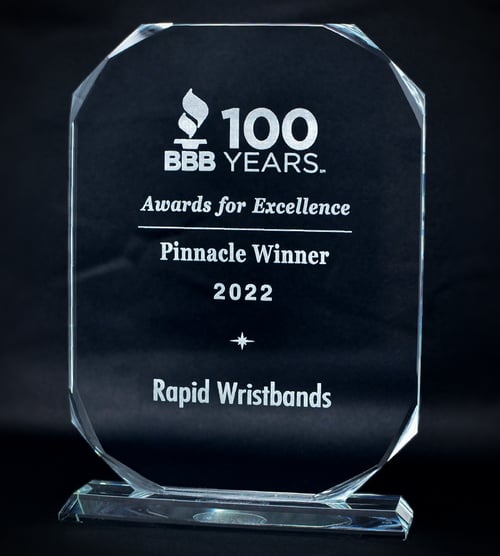 This award is a big deal for our organization!
Of the ten essay questions in the 2022 application process there were several topics covered, including supply chain disruptions, changes in demand, planning for an uncertain future, and more.
Despite supply chain and Covid-19 disruptions, e-commerce leader Rapidwristbands.com has shown its unflinching support for the community with the following:
- Contact tracing during the height of the pandemic for all PPE shipments
- Increasing the size of our Customer Support team by 30%
- Enhancing the CRM system used by our Customer Support team to better serve customers
- Streamlining our marketing channels and product offerings
Additionally, many of our customers come to us actively engaged in fundraising for a myriad of very worthy causes. We frequently partner with these customers to augment their fundraising and awareness campaigns, often offering to partially or fully fund their efforts.
During the height of the pandemic we took the opportunity to do as much as possible for our community's health. Expanding upon our 2020 efforts that provided 100,000+ pieces of PPE to the nation, we provided an additional 10,000+ pieces throughout 2021, the vast majority of which were donated. Total donations through 2021 were valued at $17,000 per employee.
We also regularly volunteer with local non-profits and are constantly looking for new avenues through which to engage with our community.
The Velocity Promotions Way: 28 Fundamentals
Our submission also highlighted what we call "The Velocity Promotions Way", a set of twenty-eight core fundamentals that have served us well throughout the current business landscape.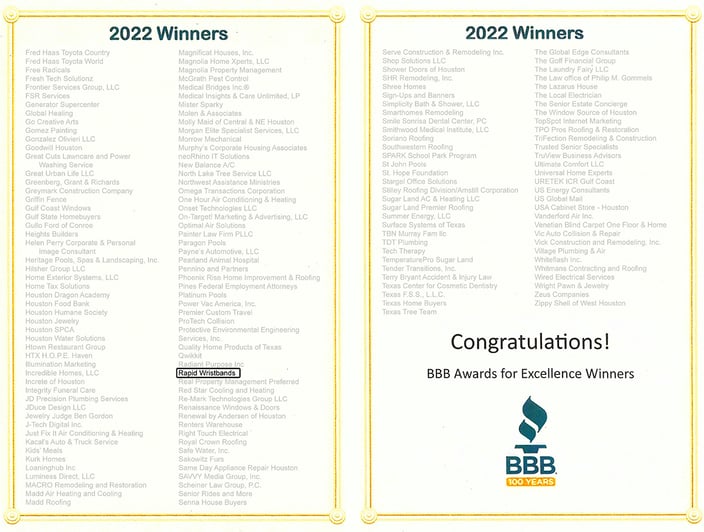 Take fundamental #6 - "Get Clear On Expectations". The best way to address unfulfilled expectations is to set realistic expectations upfront.
When the unexpected happens we focus on fundamental #15 - "Deliver Results". In light of the unexpected, we make the conversation about what the customer needs and do everything in our power to fulfill those needs.
There is a huge emphasis in our industry on quick delivery, which leads many of our competitors to exaggerate delivery timelines. Instead, we practice fundamental #2 - "Do The Right Thing Always" by offering honest timelines based not on the best case scenario, but the most likely scenario.
With fundamental #19 - "Be Proactive" in mind, we maintain relationships with multiple suppliers and transporters to provide redundancy if there is an issue with any one of our supply lines.
The timeliness guided by fundamental #26 - "Be A Fanatic About Response Time" is exemplified by our timely responses to all customer feedback. We monitor all review channels (BBB, Google Reviews, Shopper Approved, Trustpilot etc.) and provide responses to every single review, not just the outliers.
Rapidwristbands.com Team Members at the 2022 Houston BBB Awards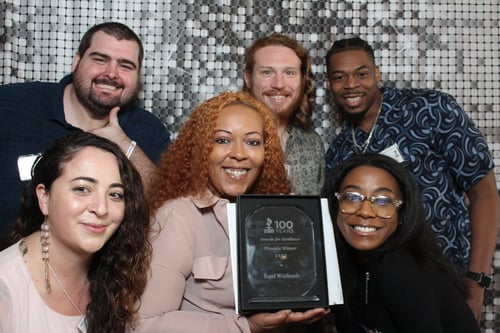 The Better Business Bureau Awards of Excellence are held annually to benefit the Better Business Bureau Education Foundation, a charitable nonprofit organization that informs, educates, and advocates on behalf of consumers. It also protects consumers from fraudulent scams and unethical business practices.
Several members of our team represented Rapidwristbands.com at the 30th Annual BBB Awards for Excellence gathering on November 2, 2022.
It is a great honor for us to be acknowledged by the Better Business Bureau, a huge accomplishment for any successful customer service team. We're grateful for the BBB's recognition of our hard work and customer service over the past year and hope that this award will be the first of many to come!