During the month of October we ran our first ever Spooky Sweepstakes which ended up having a major impact on many children all over the world.
Sweepstakes Winner
Thank you to everyone who participated this year!
We really enjoyed seeing everyone enter, and if you participated you were made aware of a Special Grand Prize Order Rebate up to $250 for one lucky winner. The grand prize was chosen at random based on how many orders you placed during the sweepstakes.
And now without further ado it's time to announce our winner!
The 2020 Spooky Sweepstakes winner is (drum roll please...) Elizabeth S. from Virginia.
Here is a picture of Elizabeth wearing the green and red "I PACKED A SHOEBOX!" bracelets along with a stack of shoeboxes behind her.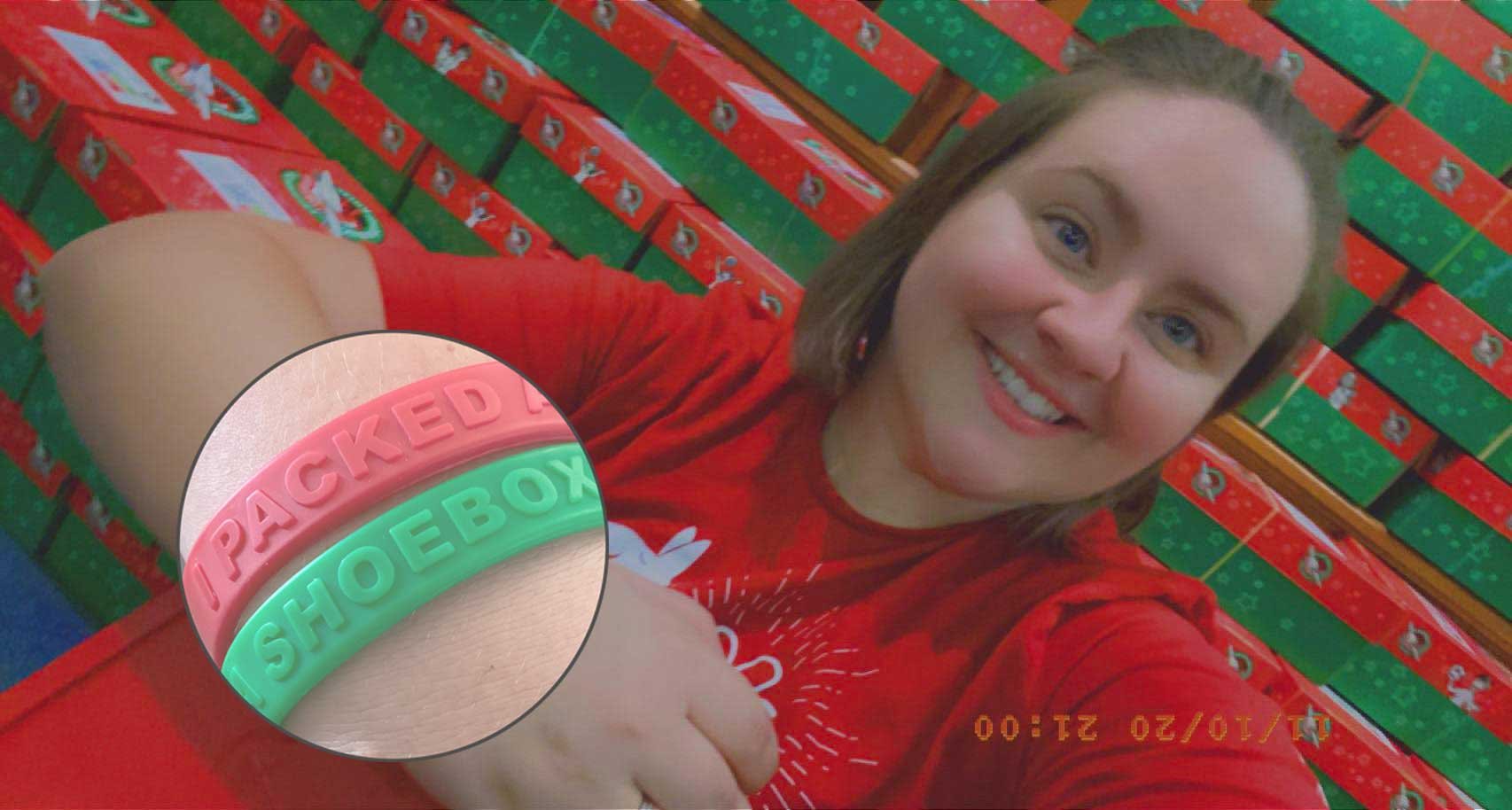 "I would like to thank you and Rapid Wristbands for hosting the sweepstakes! I feel so blessed to be chosen!" -- Elizabeth S.
Operation Christmas Child
Elizabeth is the Project Leader at her church for Operation Christmas Child, a project of Samaritan's Purse. Her
church collects items year round, but you can ALWAYS build a shoebox online through the Samaritan's Purse website.
Her church has about 25 people on a busy Sunday, so being able to reach more people and gain exposure for their cause is truly important.
Elizabeth's church (along with MANY friends & family members) packed over 300 shoeboxes this year. Last year they were only able to pack 65 shoeboxes, and this year their goal was to pack 175 shoeboxes, so they almost doubled their goal. Truly amazing!
In the background of the photo below you can see their huge wall of shoeboxes.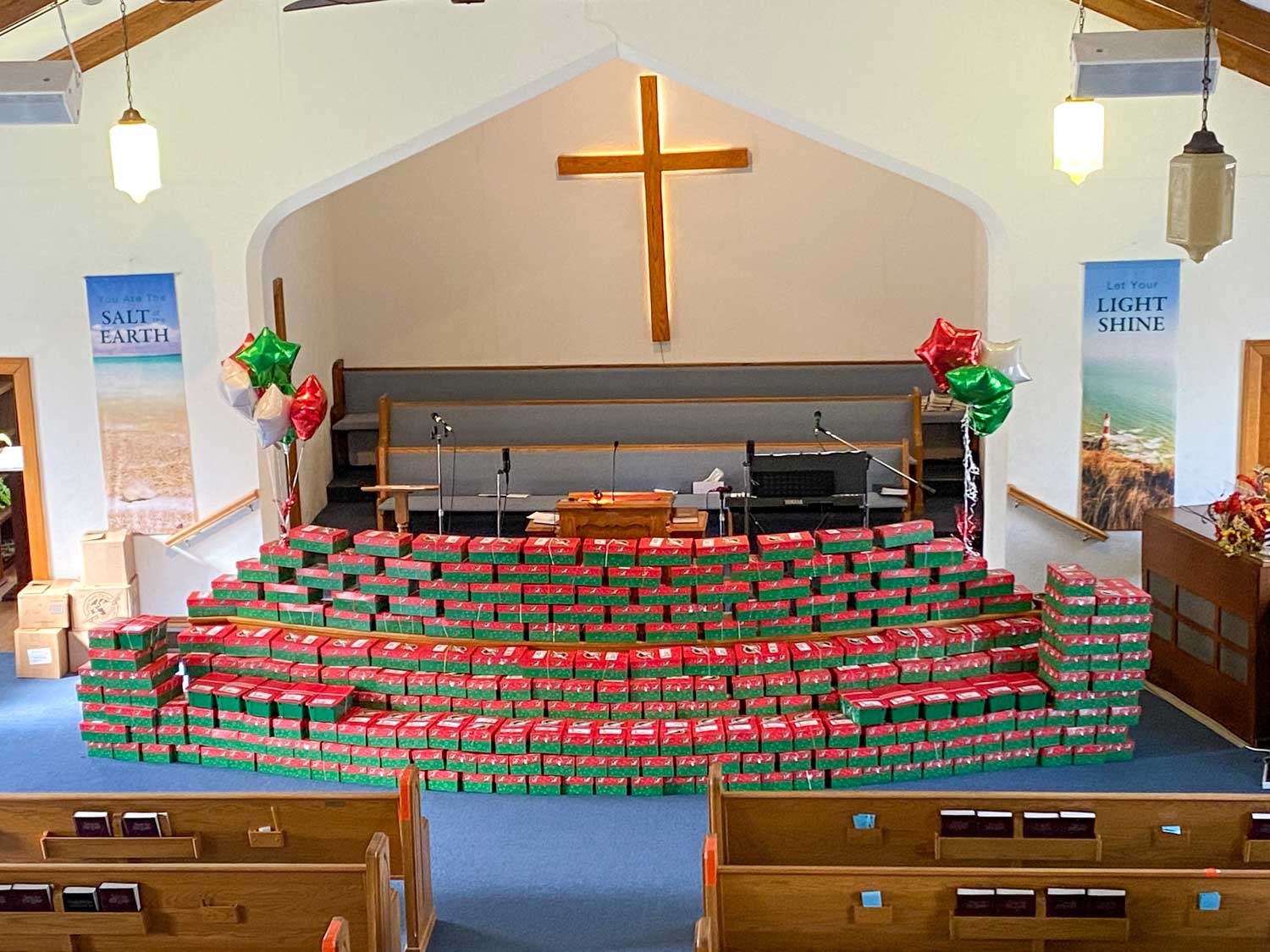 Operation Christmas Child
collects shoeboxes filled with gifts such as hygiene items, school supplies, and fun toys, and then delivers them to children around the world. These shoeboxes are packed with many wonderful items, but most importantly they are packed with LOVE. Each box is prayed over and they also pray for the child that receives the shoebox.
More details about the journey each shoebox takes, the impact, and the number of people involved in the journey are outlined in the infographic below.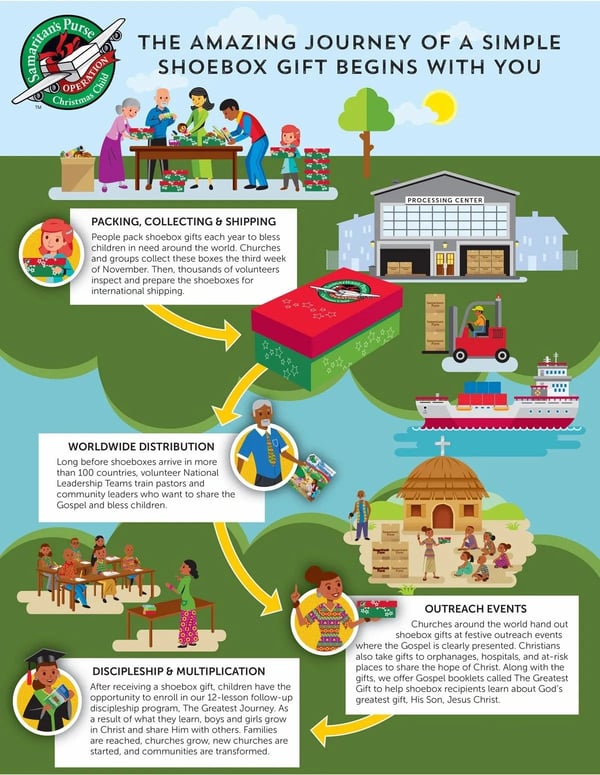 Elizabeth decided to
purchase embossed wristbands
&
keychains
because she wanted something affordable, yet also useful to all ages, to give away at their packing parties (where we pack the shoeboxes with gifts).
"I love how I was able to customize them to say "I PACKED A SHOEBOX!" -- Elizabeth S.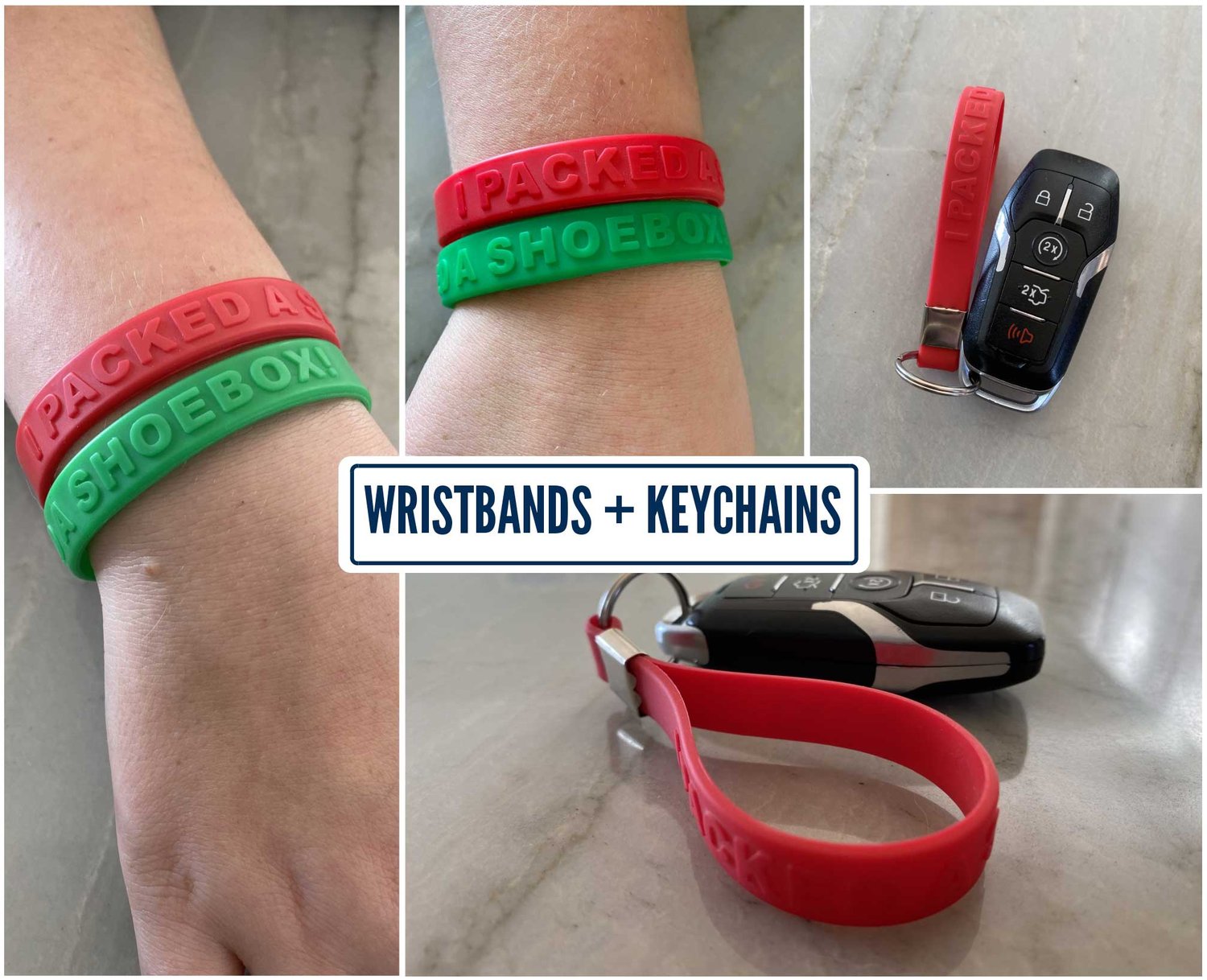 Raise Awareness For A Merry Christmas
Elizabeth hopes that others will see the bracelets and keychains and then ask "what does that say and what does it mean?", so that they can spread the word and mission of their ministry.
"The bracelets and keychains are WONDERFUL quality and everyone loves them!" -- Elizabeth S.
Below are several photos from one of the packing parties the Shoebox Disciples put on.
All ages can be involved with Operation Christmas Child. You will see the youngest helper (16 months) they had this year who was able to help them stack some boxes in exchange for a balloon.
Even the local cub scout troop helped them pack 72 shoeboxes.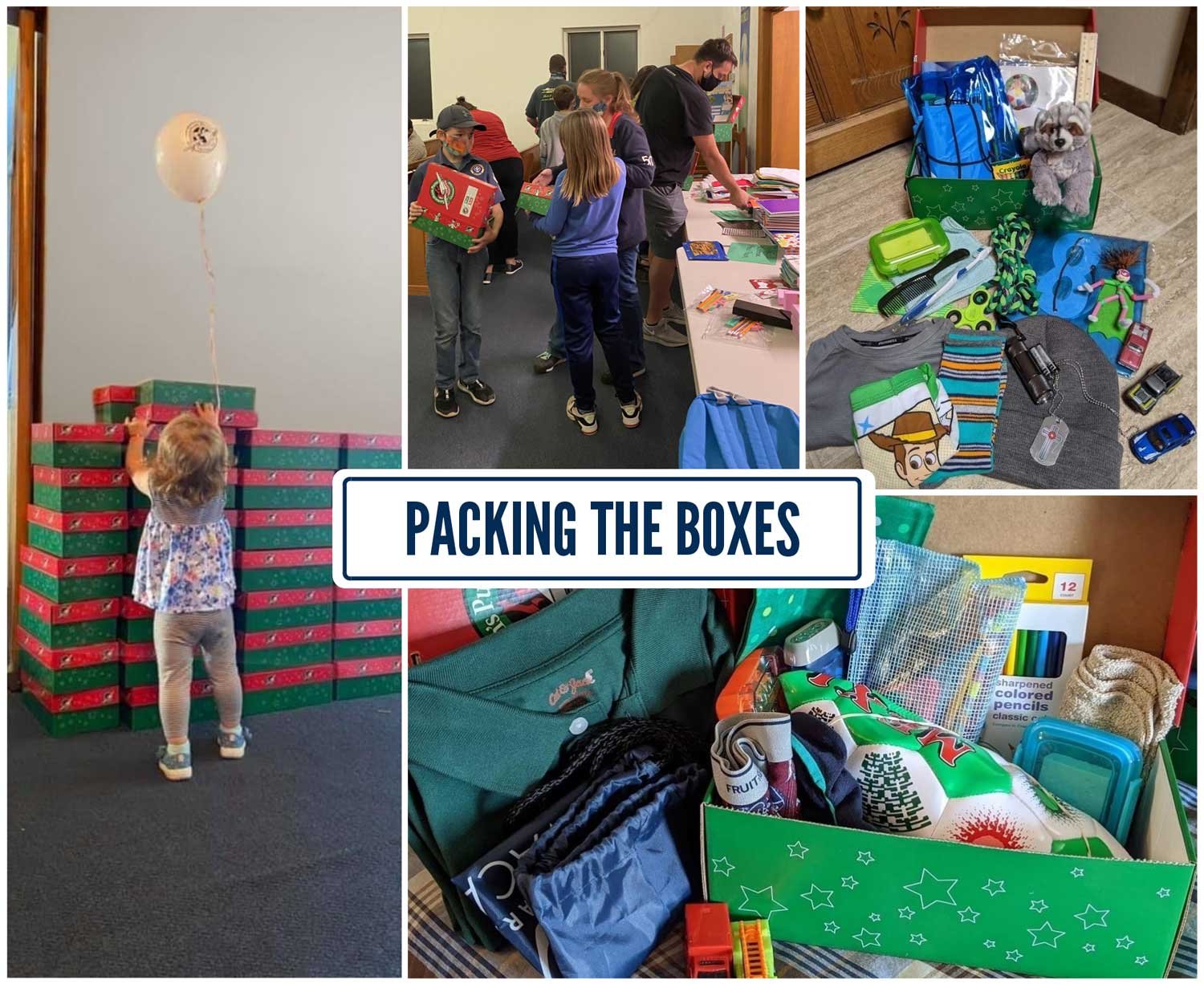 According to Elizabeth you would be surprised by how much you can fit into a shoebox. Fitting all the items is like playing Tetris, and an assortment of rubber bands are used to make things smaller.
Some boxes are themed depending on what the children have requested. Unicorns, mermaids, sports, and cars are some common themes. Here is a picture of one of the unicorn themed boxes.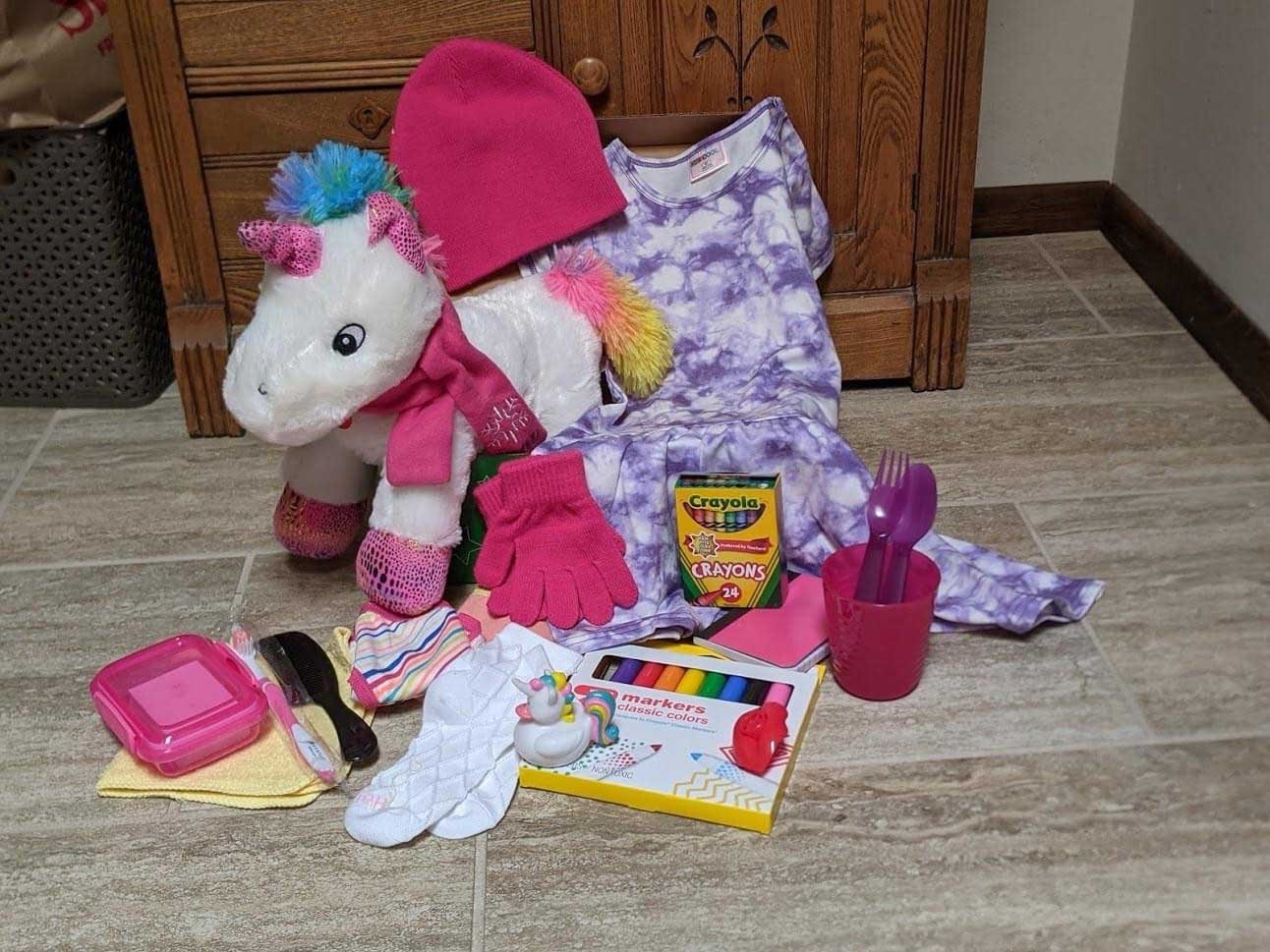 Some boxes are for older children and some are for younger. For example, one box might be for boys ages (10-14), while another might be for boys ages (5-9). The items inside will vary depending on the age group. Boys 5-9 might have items such as small toys, figurines, and stuffed animals. Boys 10-14 might have items that can be used in group sports or more grown-up clothing items. Some items are even hidden which leads to an even bigger surprise. For example, packing a soccer ball and hiding a manual air pump inside the ball is a MAJOR WOW gift!
The helpers get really excited and end up having a lot of fun packing shoeboxes. Some of the helpers even add a personal touch by decorating the inside of the box. Below, you will see a box that was decorated with a little bit of red paint to make a handprint inside the lid with a handwritten special message. The message reads, "When you place your hand on mine, think of me. I prayed for you to receive this gift...". This is such an inspirational cause that truly touches the lives of everyone involved.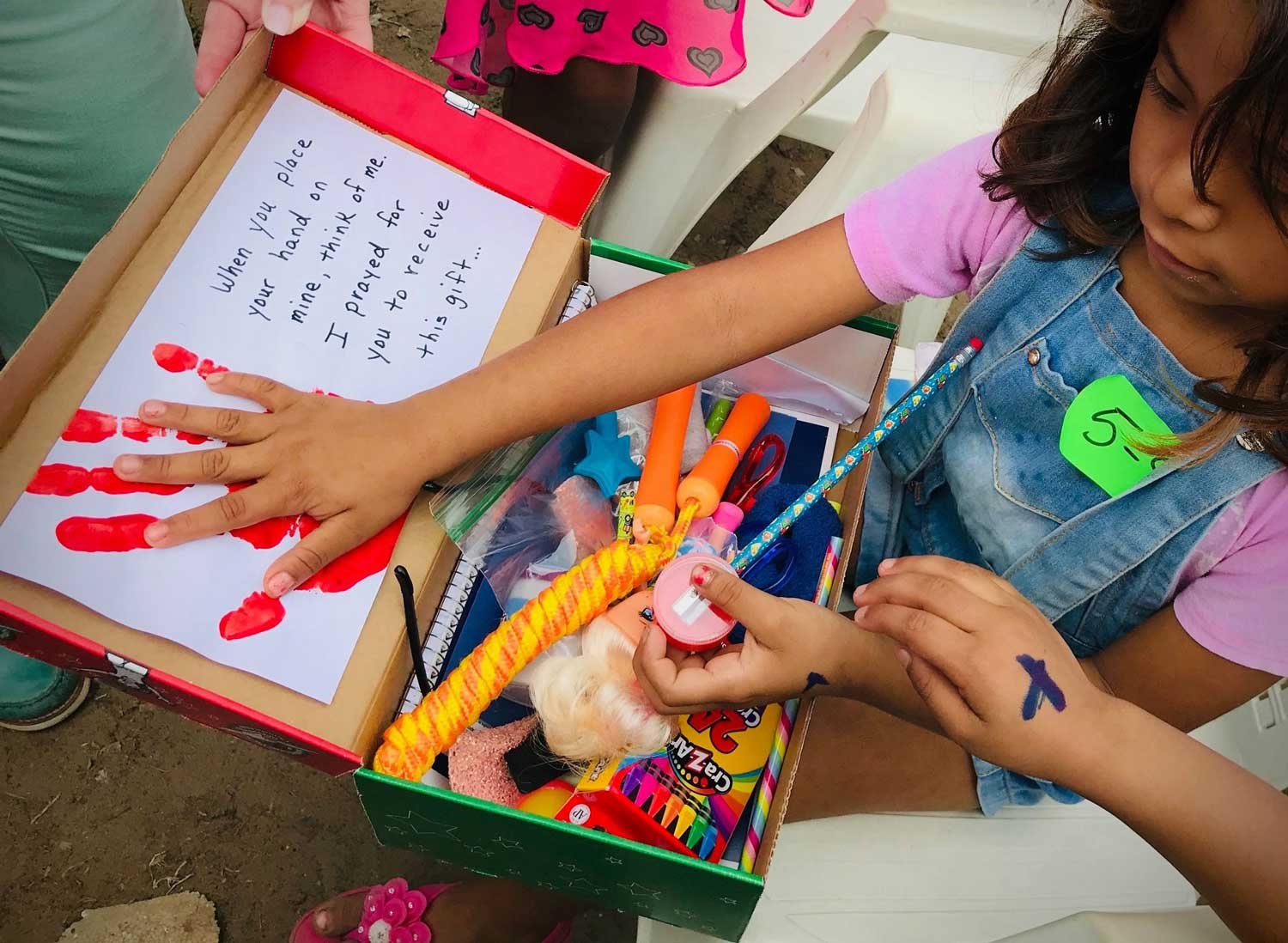 For some children the shoebox may be the only new gift they receive in their lifetime. They use the gift filled shoeboxes as a small example of God's Love.
Below are some pictures of the young hearts and souls Operation Christmas Child has been able to reach. You can see how happy they are to receive a shoebox, and this is a cause we can all get behind.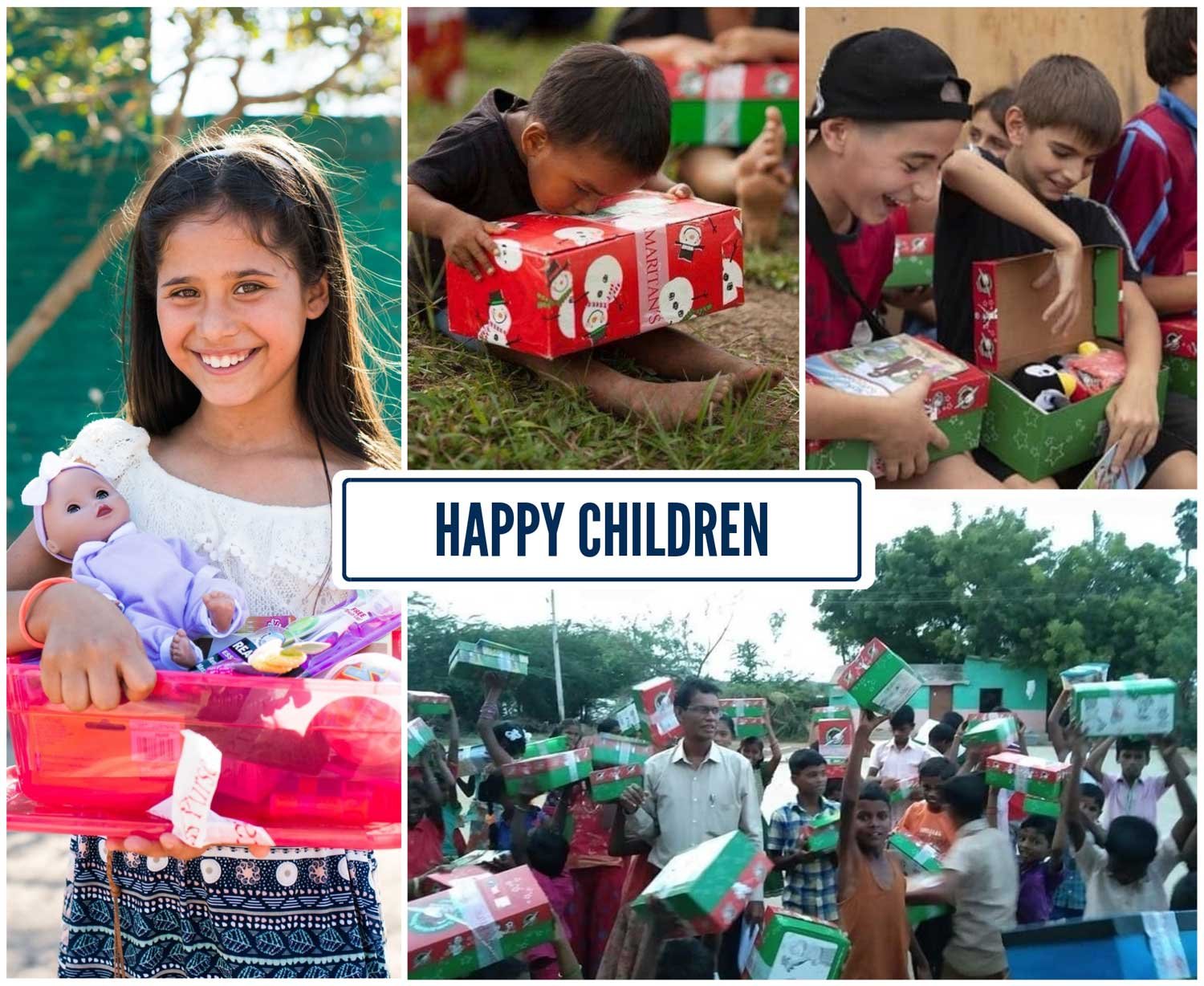 For more information about Operation Christmas Child or to join Elizabeth's mission you can reach out via the Facebook Group "Shoebox Disciples".
We wholeheartedly support her in all efforts to make a Merry and Bright Christmas for the children that need it most in the world.