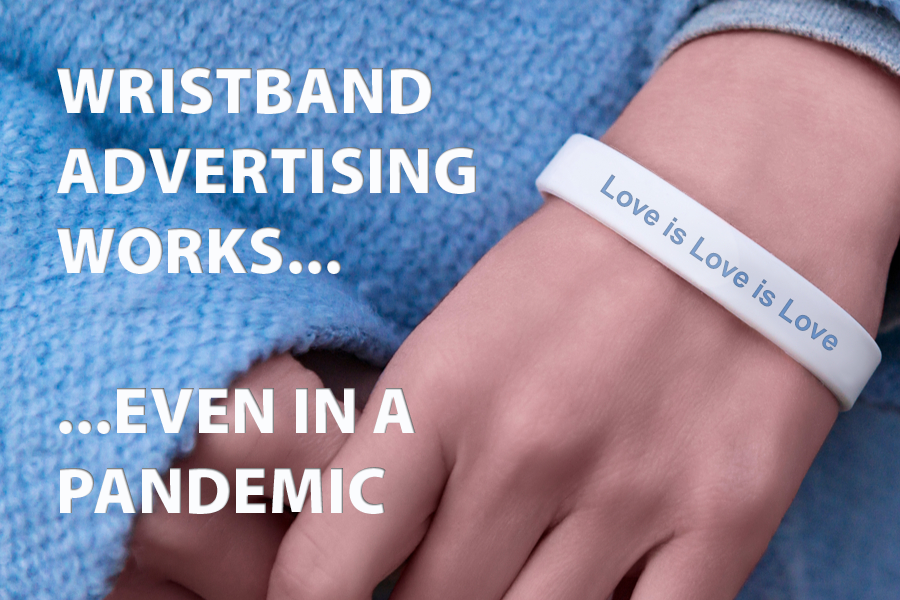 These are confusing and unprecedented times. For months now, we've been in a sort of holding pattern, not knowing what to do. Vacations and events are canceled. Schools are virtual, or partially virtual. Our routines are upended, and new ones have emerged… making sure we have a clean mask before leaving home and planning our day around social distancing, restrictions on crowd sizes, and limited options for entertainment.
ADVERTISING IN A PANDEMIC
But, your message can still be seen and doesn't need to fall by the wayside. Your company logo, business name, cause, slogan, or awareness-raising message can still be seen as people wear customizable silicone wristbands from RapidWristbands.com!
Think about the times you've been to a grocery store in the past few months. People were wearing masks, sure, but they are also still wearing hats and t-shirts and other items that have company logos or other advertisements on them (which we can also help you with through our sister company!). Our silicone wristbands are a perfect and affordable way to get your message out there in front of the general public. Plus, our silicone products are shower-safe, can be easily cleaned without damaging the message, and are available individually bagged to minimize the number of people touching them before they get to the end-user. And don't forget… lots of people have been using wristbands as a tool to communicate their social distancing preferences.
HOW TO ORDER WRISTBANDS
Our custom design tool makes ordering wristbands a snap. We have a couple of step-by-step guides for school-related bands and awareness-raising bands, but either will help you order bands for any purpose. We also have a helpful guide to the different wristband colors for various causes.
If you need help designing your bands, our world-class, in-house customer service team is ready to help. You can chat, email, or call. You'll get the best service in the industry, regardless of how you reach out to us.